Forgive the lengthy introduction, but this is not the first of these entries I hope to make.
Good science fiction is tough to track down these days. You have horror movies trying to be science fiction (and failing at both), which results in The Happening (only tolerable if you watch with Rifftrax), superhero movies trying to be science fiction (sorry, Will, but Hancock was rough), and science fiction that we all wish wasn't science fiction (I dare you watch Hayden Christensen in Jumper. Seriously. I dare you.).
Some science fiction tempts you by starting out strong; Event Horizon had great potential and Sunshine was gearing up to be one of the best science fiction films ever made until the last 20 minutes (imagine Episode I disappointment without the suck). And then there are some science fiction films that approach perfection for the entire length of the film and receive the critical praise they so richly deserve (WALL-E and District 9 immediately come to mind).
But this entry is about underrated movies, and I've selected to highlight a little film released in 2000 called Pitch Black, the story of a group of passengers marooned on a planet where they struggle to survive on a sun-scorched world. Featuring Vin Diesel, the movie was met with indifference: $39 million at the domestic box office and 36% approval with the Cream of the Crop. The effects are a little dated, no one threatened to sweep the Oscars with their performances, and you won't find this film on any Top 10 lists.
So what's to like? What makes this movie so underrated?
THE ACTORS.
With the possible exception of Vin Diesel, no actor or actress stands out in this movie. And, when it comes to science fiction and horror, that can be a good thing. Quick, name me an actor not named Wilford or Kurt in The Thing. Someone not named Sigourney from Alien? Hell, name one actress from The Descent.
A strong story negates the need for a strong performance—everyone just needs to do his/her job. Pitch Black is no different. Because no one takes it over the top, the cast fuses into a plot delivery device that is neither memorable for being good…or for being bad. As a result, the actors disappear and the characters emerge; characters without boisterous secrets or petty dramas, but with personal issues they prefer not be made public. They react to the situation, not the script, and don't bore us with their petty problems. It is refreshing.
THE PLANET
By far the strength of this movie, the ship crashes on a (seemingly) deserted planet. But this isn't like most films where the surface is surprisingly like earth except with a slightly higher Nitrogen count or whatever. This is a truly alien landscape, complete with three suns, no water or plant life, and a ringed planet on the horizon.  To quote one Ted Mosby, it is hauntingly beautiful, without some bullshit oasis or friendly humanoids to help these survivors out of their bind. There's only a colony, long-deserted (though not voluntarily).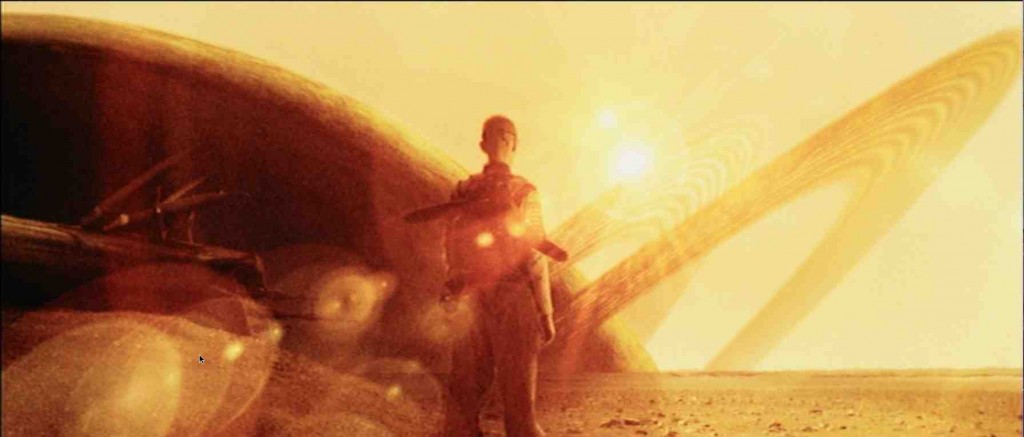 THE ANIMALS
There are no flora, but plenty of fauna on this seemingly lifeless planet; this ultimately serves as the threat to the population. In a precursor to Peter Jackson's epic King Kong remake, the creatures themselves have clearly evolved. It's not one dominant life form, but multiple forms on different parts of the planet. There are the slugs donning exoskeletons and a phosphorescent glow nestled safe in the ground.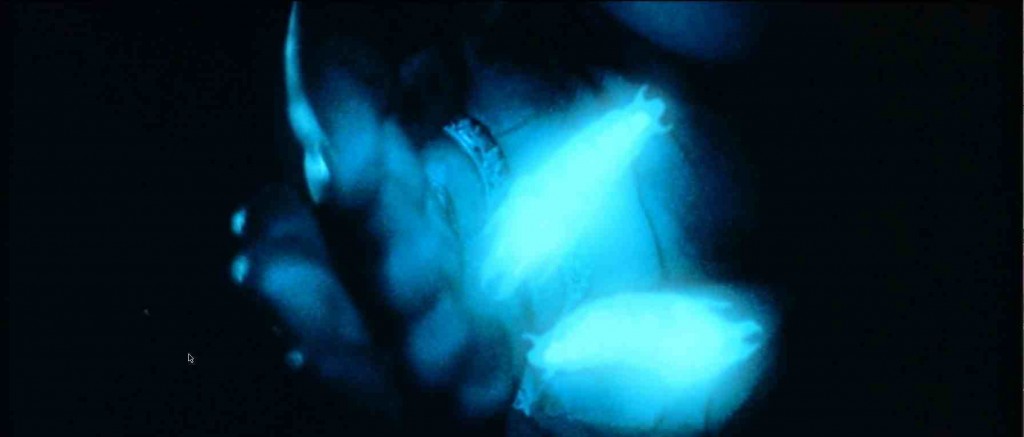 The winged, blue-blooded creatures who rule the skies, fighting one another after they've run out of torsos: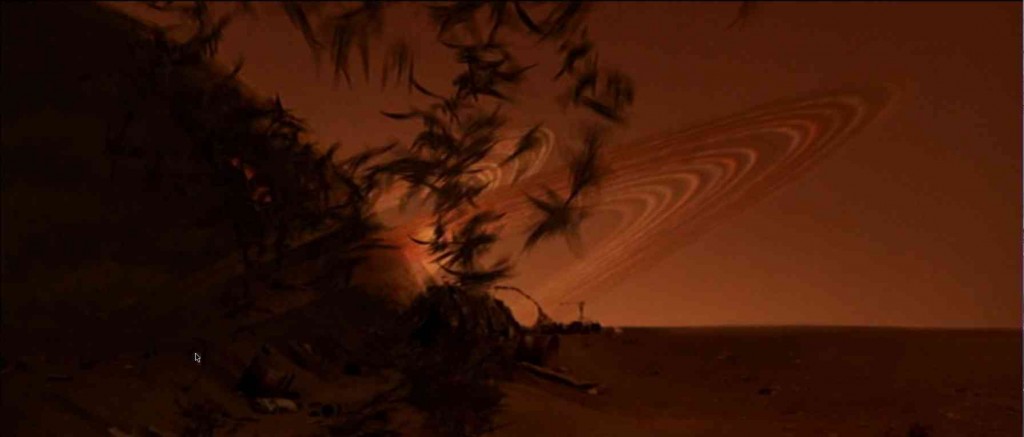 And the monsters who stalk above the ground, seared by light but immune to everything else (except for Vin, of course).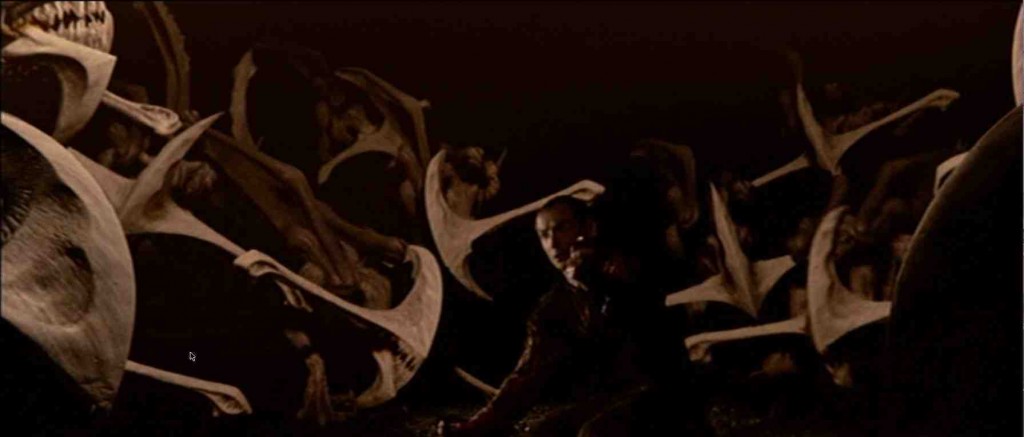 There is even evidence of other creatures who were clearly not fit to survive long-term on the surface, with huge, hulking skeletons bleached by the suns as a reminder of their downfall due to docility.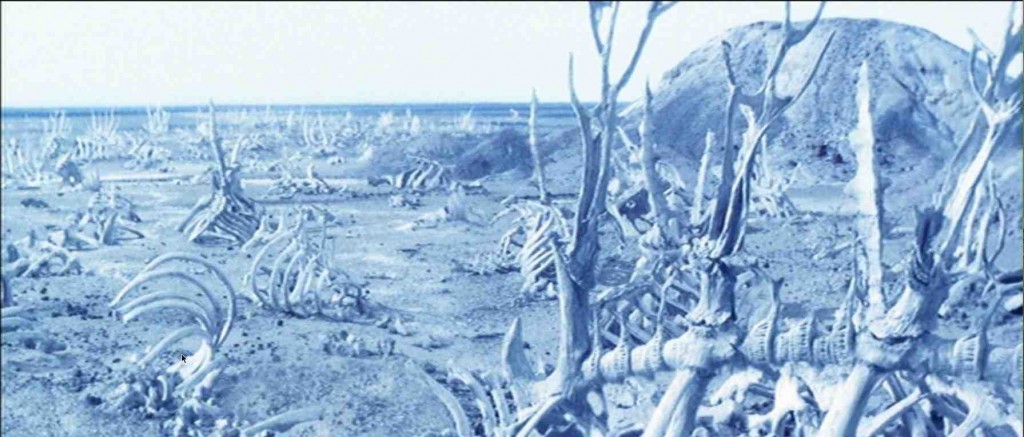 And, best of all, this is all information that we gathered as audience members. There isn't some scientist who's studied these beasts, some survivor who learned how these brutes think. It's purely visual evidence, giving us the freedom to construct our own narratives. Subtlety and imagination triumph—Michael Bay fans need not apply.
THE TENSION
Finally, some real tension. Without the stock characters that plague these monster movies, survival becomes a genuine uncertainty. The monsters remain in the dark, where our minds can create far scarier demons than any CGI bullshit. Instead of looking for flaws, we can focus on how the scene unfolds; we replace skepticism with escapism, something that is sorely lacking in most modern horror movies.
Pitch Black won't change your life and you might not even want to recommend it to your friends. But Netflix it and you just might be pleasantly surprised.