Three years ago, my former roommate (and current cousin) decided to hold a movie competition. We got together, ordered pizza, and each watched our submissions. Jake's was Gymkata, a film filled with combat so bizarre that Cracked actually featured it as the best fighting style "too awesome to actually exist." Mine was Dracula 3000, featuring Casper "Hard Jaw" Van Dien, the long-lost Coolio, and one of the most bizarre endings in movie history. This was followed by much Patron, drunk dialing, and even drunker karaoke, and by the end of the night I was the winner. I had found that year's best worst movie.
When asked what makes a great movie, legendary director Howard Hawks said, "Three good scenes and no bad ones." If you think of the great films out there, Hawks is surprisingly spot-on. Unfortunately, it's easier to find a great movie than a great bad movie.
The trick is that the bad movie has to be enjoyably bad, not just bad (like I've talked about scary movies). As wisely discussed on the fantastic How I Met Your Mother, when people think of the worst movie ever there are two main camps: Plan 9 from Outer Space and Manos, the Hands of Fate. Both groups have great arguments, but no consensus is ever made because they are talking past one another. Watch either one a few times (without help from the MST3K crew) and it's clear that both movies are horrible. However, Manos is painfully bad – the plot is painful, the dubbing is like watching a foreign film without subtitles, and the film itself doesn't seem to know what it wants to do. Plan 9, on the other hand, is the best worst movie because, at some level, it's actually enjoyable. It's got heart. Ed Wood was clearly going for something – he just took Suck Ave. to get there. The effects are hilarious, not pathetic. The acting is poor, but earnest. The plot is ridiculous, not stupid. And as a result, the film provides an opportunity for others to mock it (in a non-resentful way).
Jake and I tend to lean more toward the Plan 9 format. So, for our annual competition, the bad movie has to be enjoyable (e.g., Commando (which I argue is the best worst movie ever made) or Death Wish 3). As an extra twist, the movie also has to feature at least one recognizable actor/actress.
My entry this year was Mega Shark vs. Giant Octopus, which is a gut-wrenching tale of a mega shark fighting a giant octopus. For reals! Obviously, there's a lot more to it than that. I mean…there's the…ummmm…I mentioned the shark, right? And the octopus? Yeah…that's about it. Think of it like Boa vs. Python, but instead of a boa and a python, it's an overgrown shark and a huge octopus. Awesome!
Needless to say, it's a great bad film. It features, among other things, the giant octopus swatting a helicopter out of the air using a tentacle and it even has the mega shark attacking the Golden Gate bridge. For reals!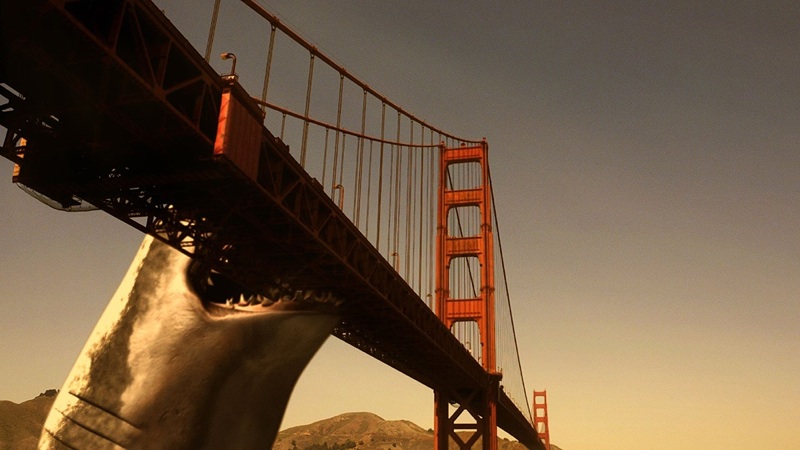 And, for an extra bonus, it has one of the most ridiculously awesome scenes in the history of cinema. Check it out, you won't be disappointed:
All kinds of craziness. Throw in the odd performance of Lorenzo Lamas and the romance between characters (featuring the most erotic scene since Leslie Bibb and Joshua Jackson showered together in Skulls), and I thought I had victory all but guaranteed.
Unfortunately, it was not meant to be. While Jake was blown away by the aforementioned ridiculous scene (he just stared at me in disbelief and said, "Are you going to win again this year, you SOB?"), the movie's ridiculousness peaked too early (that scene was within the first half-hour), and so it didn't have the impact of my epic victory from last year: Shark Attack 3: Megalodon.
It didn't help that Jake's film was Howling III: The Marsupials, which was hilariously bad. Granted, it didn't feature a recognizable actor, but that was because last year my entry didn't contain a recognizable actor (though I maintain that the actor Ryan Cutrona was recognizable, given that he was Betty Draper's father in Mad Men, and was also in Changeling, 24, and a commercial for Cancun). This is an ongoing feud, as it was my response to the first year when Jake said his recognizable actor in Gymkata was that the film was directed by "the director who also directed Enter the Dragon." Nice try, jackass.
IRregardless, next year we're back on track with actor name-recognition and bad movie hilarity. One year to find the next best worst movie. I had better get started.