Every college football Saturday, I have something of a ritual. Sure I watch every game I possibly can, Tivo-ing a number of them that are close but I can't watch right away. I have to have some kind of pizza (preferably Little Caesar's) or wings (if I'm watching the game at a bar). I wrap up the day with College Football Final, putting up with Mark May trolling with his "angry black man" routine so I can see what the experts are saying and watch Rece Davis be one hell of a broadcaster.
But the day of football cannot begin until I watch College GameDay. It's two hours of heaven (I haven't gotten into the 8:00 – 9:00 hour yet, but I'm sure it's wonderful too) as I watch the experts break down every conference and every game, living the dream job of a million college football fans. Fowler (and his biting yet disguised sarcasm) keeps things moving, Corso plays the fool (albeit an enthusiastic one), Herbstreit brings the facts, and Desmond says stupid shit. Okay, maybe I'm still a little bitter.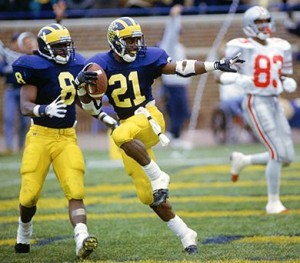 Still, the show is hypnotic, energetic, and just starts the day off right.
Needless to say, I was disappointed to see that this week, the GameDay crew will be heading out to the Auburn/Clemson game. I'm not the only one who was bothered by this (Texas Tech fans and Arizona fans were also annoyed), though they tended to place the blame at the ol' bias angle ("No one respects us!"). However, my man Pete Fiutak (arguably the best college football columnist out there) had an interesting take on the situation:
"College GameDay has done the near impossible by not going fluffy and continuing to be terrific despite adding an extra hour. Its importance and its presence as an influential force continues to grow, and in a sport where perception and hype mean everything when determining a national title and BCS slots, it really does matter what the show chooses to showcase. The problem, now that ESPN has ponied up the billion dollars to showcase the SEC, is that GameDay is quickly becoming a three-hour informercial for the conference. In the opening weekend the show did its thing from Atlanta with LSU and North Carolina squaring off. Fine. Last week, the show came from Tuscaloosa for the Penn State – Alabama showdown. Okay. This week there isn't a big signature game to highlight the weekend, so it would be a perfect time for the show to put the spotlight on a different part of the college football world to give fans a taste of the landscape. Iowa is playing at Arizona in a showdown of two ranked teams; Tucson would be different. Going to Michigan State for the Notre Dame showdown would be a slice. But instead, the show is going to Auburn for the game against Clemson. Another SEC school, another three hours of SEC screaming, and yet another way of hyping up the product so it can be sold along the family of networks and in the heads of the pollsters."
I'm not one for conspiracy theories, but I really feel like Fiutak makes an excellent point. It's a slow week for college football, no doubt about it (especially when compared with last weekend). I can understand not wanting to go to Texas-Texas Tech this weekend–the Red River Shootout is two weeks away, and covering Texas twice in three weeks would not be ideal. However, as Fiutak says, Arizona/Iowa would be a great matchup (personally, I think they're waiting to cover Ohio State/Iowa, which is, in my humble opinion, the only possible reason for missing Ohio State/Miami (and not a very good reason at that)). I'm not sold on Michigan State/Notre Dame, but Washington/Nebraska could make for an interesting storyline.
I'm sure no malice was intended and it's all about synergy. Hell, maybe Clemson/Auburn will be a great game! Then again, that would be completely ignoring last week (Auburn eeking out a win over Mississippi State (!) and the ACC crashing and burning on the national stage).
I think what bothers me the most is that, right now, I don't think the SEC is that fantastic. They've definitely been dominant the last few years (and as a true Buckeye fan, that pains me to say). But this year (so far, and I'll probably regret saying this), I'm underwhelmed. Alabama is a fantastic team, no doubt about it. Florida may pull it together, or it may pull a 2007 on us and drop 4 games. Ole Miss blows (Jacksonville State???), Georgia was defeated (by South Carolina in a close game), Arkansas is dangerously overrated, and Tennessee just got 48 points dropped on them.
But these teams are being propped up by the mythology of the SEC, the same way that people still go on and on about Notre Dame or about the Florida State/Miami resurgence. But here GameDay is actively reinforcing this myth. As GameDay, you can go anywhere in the country to cover any game. Cover three SEC games in a row and, in the minds of your audience, that must mean the SEC is worthy of that coverage. How worthy remains to be seen, but, until GameDay starts traveling elsewhere, we'll never know.