Almost a year ago, I was having a conversation with one of my best friends, John Chaney, and we decided to run a marathon together. He suggested a half marathon, I mocked his masculinity, and we agreed to run the full marathon in Austin. And about a week ago, on February 20th, we ran the full marathon, 26.2 miles, around the relatively hilly streets of Austin, Texas. Even though it was days ago, I'm still trying to digest the experience. I think it might help to parse things out a bit.
The Training
Despite my dreams, there was no "Heart's on Fire" montage or any other heroics. And, despite my hopes, it was tough. Originally, my plans were for a sustained training program (here come the excuses). I had a hard time in the Lubbock heat (especially given the city's apparent hatred for functioning water fountains), and my schedule really got thrown off when I had gall bladder surgery, got married, and went on my honeymoon in the span of a few weeks. When I finally got back on schedule, it was early in the fall, and I had to use an abbreviated schedule.
It was tough. I know that sounds obvious, but I feel like it deserves to be mentioned. I'm a runner, and I figured gradually running further once a week wouldn't make that big of a deal. I was wrong. I kind of hit my threshold early on around 8 miles. That lasted until a run where I accidentally went further than what I was supposed to do–the GPS on my iMapMyRun app wasn't working and when I threw my route onto GoogleEarth after the workout it revealed I had run about 9.5 miles. I was good to go until about 16 miles, when I plateaued out again. This lasted a few weeks, until I was finally able to push through it under optimum conditions (good weather, no deadlines, and my hydration belt finally arrived). I maxed out at 20 about three weeks before the race, and stepped down the training until I reached Austin.
The Race
I jogged about 1.5 miles the day before the race, during which I remembered just how much I missed running in Austin. The night before John and I (accompanied by our wives) went out for pasta at the Tree House Italian Grill (John's meal was apparently great, mine was definitely awful). We went to bed at a decent hour, woke up at 5:45 a.m., and made our way to the starting line. At 7:00 a.m., the race started.
Well, sort of. About 20,000 runners actually participated in the Austin marathon (~13,000 half-marathoners, ~6,000 full marathoners, and ~? 5K runners), and so it took us about 16 minutes to actually cross the start line. John-John and I were aiming for about 11 minute miles, and we stayed pretty close to that for the first 16 miles or so. It was rough. I thought the toughest part would be the point in the race where the half-marathoners broke off to finish (and we kept on going), but the real tough part was around mile 16 or 17, where you realized that you still had over two hours of running left to go. Ouch. Anyway, at that point, I had to slow down a bit (some miles more so than others), but I owe my time to John. He was a true friend, doubling back a little bit and jogging alongside me. I think he probably could have ran it about 30 minutes faster (and I could have run it about 30 minutes slower), but he took one for the team. I tried to get him to run ahead, but he (obviously) refused. I owe a great deal of the enjoyment of  the race to John.
The rest I owe to the crowds. I've run races before (5K, 5 mile, 10K), and while the crowd was great (esp. in that last kick), I never thought it would be so essential. In Austin, people lined the streets, bands randomly played, people had speakers blasting music (the runners absolutely lost it around mile 7 when some guy was playing Thriller), and in general just being really supportive. I almost punched some guy who said we were currently on "the last hill" (it was not) and the few people who said we were "almost done" (we were not), but the thousands of other people were giving out free high fives, cheering us on, holding up signs (my favorites were "Because 26.3 miles would be insane" and "If this marathon course was easy, it would be called your mom!"), handing out bananas and candies and orange slices, and just generally being awesome. I never thought cheering could mean so much, but between miles 17 and 22, it meant everything.
26.2 miles later, we crossed the finish line.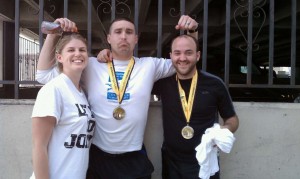 My Reaction
Overall, it was a great experience to have, but honestly, as of right now, I just don't see me doing another one. On the one hand, I think it would be really cool to become a marathoner, traveling around, working on improving my time, and finding other cool marathons to run (my colleague John ran the Minneapolis marathon and said it was excellent–I've also always dreamed of running the San Diego marathon, which is supposed to be gorgeous). Then again, I really love to run (I really do). And during the training process, I really started to dread going running. It was great for the extra motivation during the middle of the week (on the 4 – 6 mile runs), but Sunday just loomed in the distance. It was depressing waiting for the run, especially right before I left ("I'm going to run 18 miles…I'll be back around 3:30"). It would absorb the entire day and, while Lubbock has its moments, the city was just not made for long runs (flat and boring).
Whether I run another race or not is irrelevant. What I can say is that I finished a marathon. The time was not great. The experience was rough. The training wasn't pretty. But dammit, I finished. I consider it one of my greatest accomplishments, and I'm honestly proud of what I did.